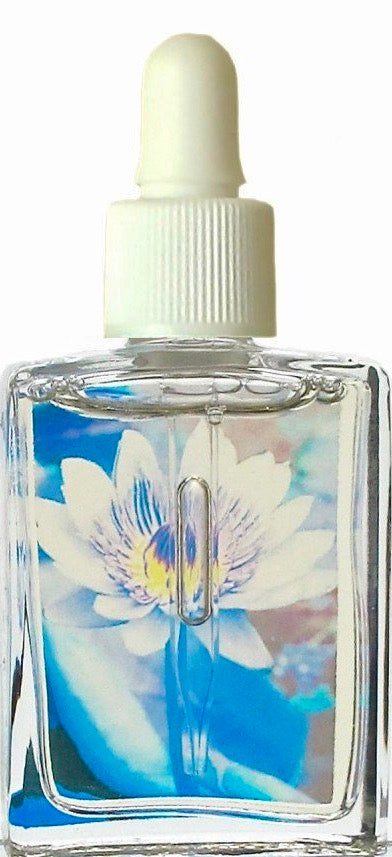 Blue Lotus Flower Essence
BLISS
Color Code: Blue // Season: Autumn // Phase: Fruit // Element: Earth

Blue Lotus (Nymphaea caerlea)  a water lily, not a true lotus, was found growing on the Big Island. It is the same species used by the Egyptians to enhance vitality and good health.
One of the highest vibrations in the flower world, the essence contains this same energetic pattern in vibrational form -  giving your body a feeling of cellular effervescence. Sparkles of vitality, like a pale blue mist, permeate your skin and uplift your spirits.
The Hawaiian flower essence comes with a full color illustrated page, showing how to use the flower topically, internally and applied to it's meridian source point.
The elixir is in a solution of vegetable glycerin, water, alcohol and salt in a 1/2 oz. bottle.
" When I took Blue Lotus internally it felt like I had got on a really fast elevator and went deep inside myself.  An energetic flow that felt like a fizzy water fountain that lifted me back up and kept me buoyant on the surface like a cork in the water. The energy welled up from deep inside and flowed outward with ease.

I took 2 drops of Blue Lotus in the morning and at night. It's a cool calm confident feeling almost like I have brought many areas of myself into a more harmonious state that makes me feel more settled and clear.

Using Blue Lotus in my skin care creams felt like I was creating a ritual for self respect It seemed to increased the moisturing content and felt really cool and nourishing.I also was drawn to put a drop of Blue Lotus on the chakras on my palms and to unify both hands. It then felt like I was bringing sacredness in some way to anything that I "put out" It is a very beautiful essence." 
SA, Scotland