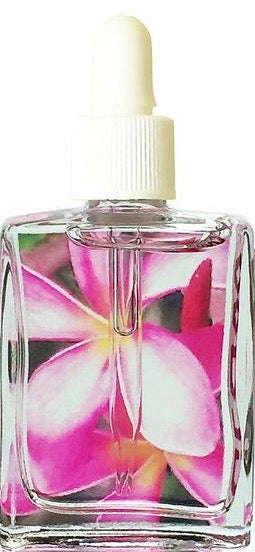 Frangipani Hawaiian Flower Essence
GLOW
Color Code: Carmine // Season: Winter // Phase: Seed // Element: Fire
Frangipani, or Plumeria as it is called in Hawaii, is a sacred temple flower used in Hawaii and India for flower crowns and leis. Possessing a magnificent life force and other-worldly fragrance, the carmine Frangipani has been chosen for this particular essence- marrying its heavenly perfume with the vibrancy of the beauty ray of carmine.
This essence brings you down from the heights and up from the depths, opening the waters of your wellspring while holding the keynote of your divine purpose. 
The Hawaiian flower essence comes with a full color illustrated page, showing how to use the flower topically, internally and applied to it's meridian source point.
The elixir is in a solution of vegetable glycerin, water, alcohol & salt in a 1/2 oz bottle.