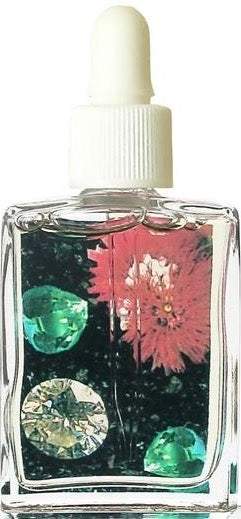 Lava Flow
(Ingredients: 'Ohi'a lehua Flower Essence ~ Ruby, Diamond, Black Tourmaline & Peridot Gem Elixirs plus Red Colored Light Elixir)
Weak, De-vitalized, Ungrounded ~ Strength, Power, Resurrection
Lava Flow is helpful for strengthening your will and re-vitalizing your physical body when your life is lacking spark.
This is a strong combination that will get your mojo going- use when you love red and work well with fiery energies.
'Ohi'a lehua seeds sprout out of the hardened blackened lava, after the plant has burned to the ground from red hot lava flows; as an essence 'Ohi'a helps you to resurrect new forces of strength and power.
Ruby creates feelings of luscious warmth and protection, while Diamond, the hardest stone, balances the cranial plates in your crown, and imparts sparkle to your energy field. Like the black lava out of which 'Ohi'a lehua grows, Black Tourmaline is a grounding and protective stone that creates strong vertical alignment.
The lime green Peridot gemstone that studs black lava rock as by-product of volcanic eruptions- takes dross from your field when used as an elixir; its bright lime green color enhances cleansing of your system.
The elixir is in a solution of vegetable glycerin, water, alcohol and salt in a 1/2 oz. bottle.