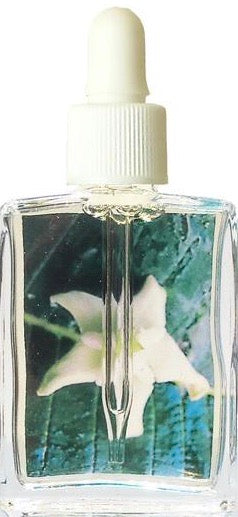 Flower Crown Combination
Ingredients: White Crown Flower, Lava'e Fern & Jasmine Flower Essences, Silver Gem Elixir & White Colored Light Elixir.
Grief, lonliness, emptiness ~ Love, soul nourishment, spirit awakening
The Crown Flower, called Pua Lalaunu in Hawaiian, meaning 'flower crown' was a favorite of the Hawaiian Queen Lili'ukalani. This flower essence was made from a Crown Flower lei made by members of the Lahaina Episcopal Church on Mauii. The Crown Flower arrived in Hawaii from India where it is a sacred flower used for love and wedding rituals. Kama, the Indian God of Love, tipped his arrows with a Crown Flower to shoot into human hearts. Such is the love element present in this flower. The Lava'e Fern smells very similar to Maile- exuding a sweet, earthy smell that is reminescent of original paradise. Jasmine Flower Essence, another elixir of love, is said to activate the original cell in the body, brought through lifetimes of experiences on Earth. Silver Gem Elixir is the Moon, refractive feminine metal and White Colored Light Elixir brings the fragrance of the soul into the body. Use this combination for activating your original self.
The elixir is in a solution of vegetable glycerin, water, alcohol and salt in a 1/2 oz. bottle.